YELLOW ELASTIC BELT WITH GOLDFISH CLASP
FITS LIKE A DREAM, THE EASIEST, PRETTIEST BELT YOU'LL EVER WEAR
So versatile, stylish, and comfortable, this fantastic little belt does it all. The gorgeous goldfish buckle is weighty and smooth, a simple twist opens and closes it. It couldn't be easier or more satisfying! Designed to look and feel equally great wrapped around a silk dress or slung through jeans, they add just enough striking detail to whatever your wearing without being too showy. Wear with jeans, trousers, or skirts, or to scoop in a crisp white shirt or create a waist on your summer dress. Anything goes really! It looks and feels great adding a splash of detail.
As these belts have no overlap, it has the perfect amount of elastic stretch so just pick the size of waist that is closest to your natural waist and it will fit like a dream.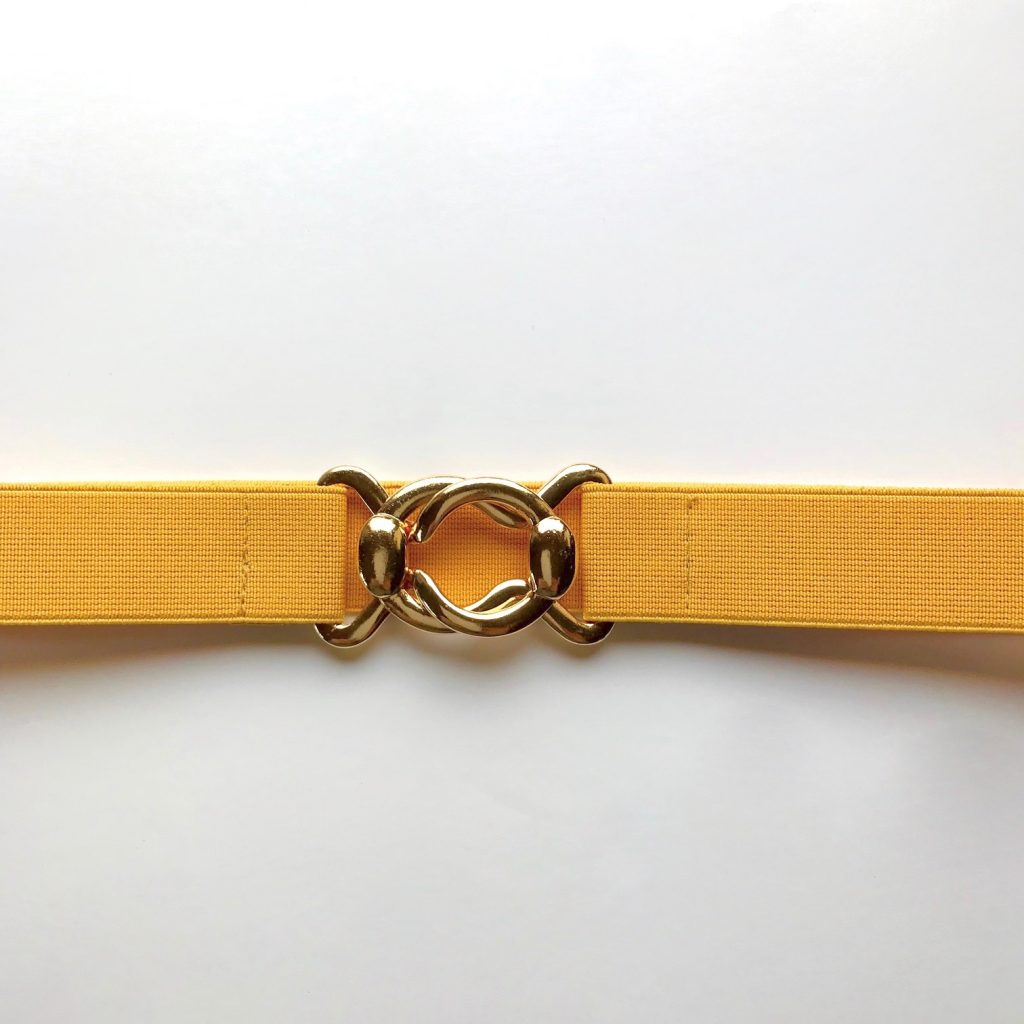 Goldfish  2″ long
Belt strap 1″ wide
Strap length as individual sizes – Please read the size guide below before ordering and pick the closest to your natural waist measurement. There is no overlap on these belts so the belt will be as your waist measurement and the elastic provides all the stretch you need!
Custom sizing is also available – JUST POP WHAT YOU NEED IN THE NOTES SECTION
golden chrome /Elastaine
SPOT DRY CLEAN ONLY
HAND MADE IN ENGLAND
SIZE GUIDE
BELTS SIZING – please use the size guide below to KNOW YOUR SIZE and order the perfect belt for you.
GOLDFISH Belt sizes are based around your actual waist measurement.
With these belts being elastic there is wiggle room either side of your waist measurement. So just pick the waist measurement closest to your own for a great fitting belt.
EXAMPLE:
TOP TIP: if you wear your clothes loose fitting and the waist on them is larger than your actual waist measurement, use your garment waist measurement as the guide rather than your own body measurement.
For example if your  waist is 30" but your Jeans waistband measures 34" (and you don't want your belt to make them any tighter) use this as your guide and buy a size 16 belt.
PLEASE USE THIS MEASUREMENT GUIDE TO CHOOSE YOUR BELT SIZE
AND DONT FORGET TO ADD THE SIZE TO YOU ORDER
SIZE 08 fits a 26″waist and the belt will measure 26″  
SIZE  10 fits a 28″ and the belt will measure 28″
SIZE 12 fits a 30″ waist and the belt will measure 30″
SIZE 14 fits a 32″ waist and the belt will measure 32″
SIZE 16 fits a 34″ waist and the belt will measure 34″
SIZE 18 fits a 36″ waist and the belt will measure 36″
SIZE 20 fits a 38″ waist and the belt will measure 38″
SIZE 22 fits a 40″ waist and the belt will measure 40″